Current Work
CORESIDENT (2020+, work in progress) is a book-object about the coresident beings in the human body, literal (skin microbes) and figurative (in the imaginative, mythological self-narration as we try to understand the relation of our bodies to the world.)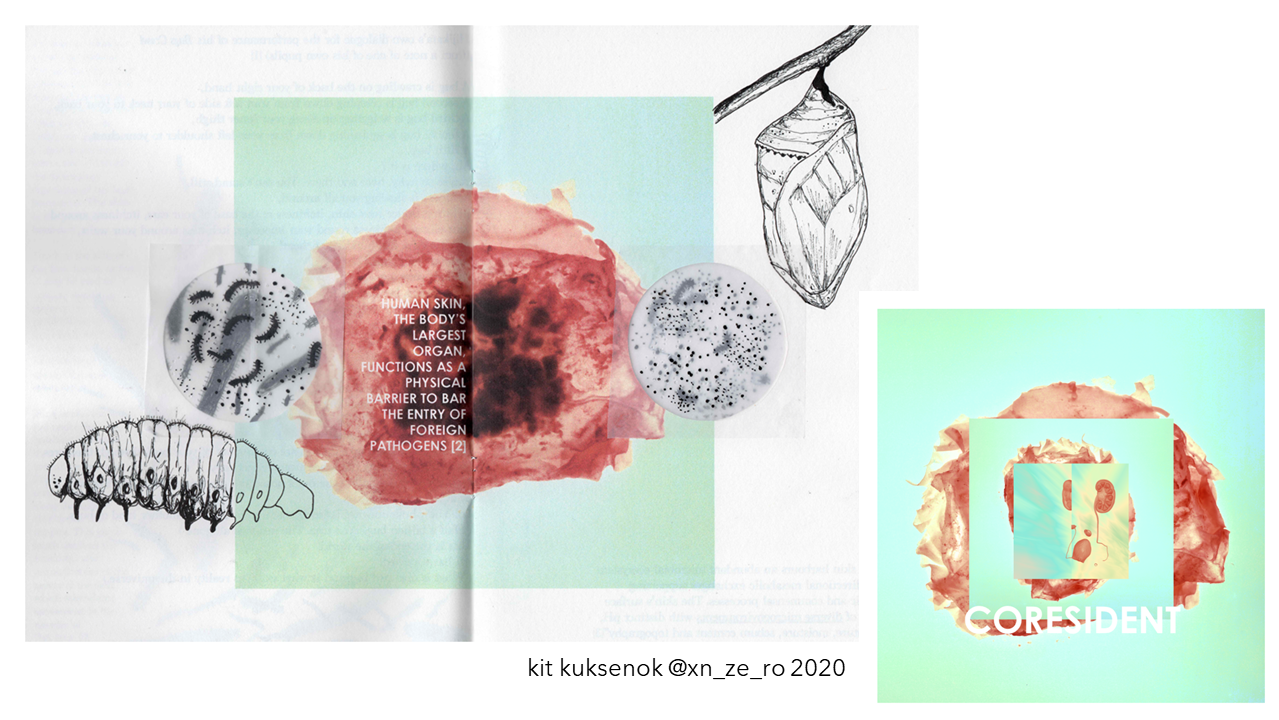 Cover matter and a scan of one of the spreads of the A5 first draft. More about the project...
COHERENT UNIT (with Posture and Direction)
Precious Life-Saving Trash Sculptures of/for 2020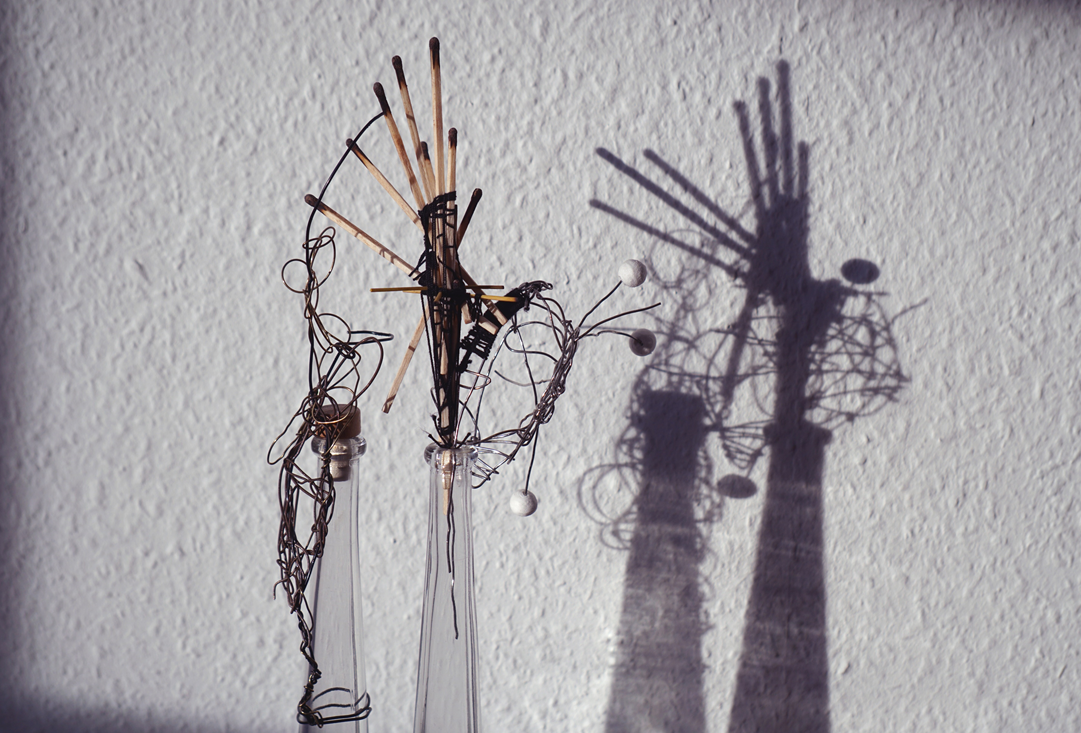 I kept saying for years,, "i should make more sculptures" and when I said it I wasn't imagining creating precious little trash creatures. Each of three (3) sub-units was composed in May-June as an of exorcism of unresolved and unresolvable energy.
Burnt matches, broken guitar strings, discarded notebook spiral, thread, paper.
Notes from one of the sculptures, first constructed in May, 2020: "the outcome of fishing a discarded piece of spiral bound notebook wire out of the recycling and re-articulating it: smoothing out its kinks, partitioning it, binding it, adorning it. Constructing a coherent unit from it, with a posture (it is sitting) and a direction (it is facing me) and from that arising perhaps a desire (it wants to be my friend). It wasn't my trash and it isn't my friend, but, nevertheless, through my acts, it has posture and direction."
CORESIDENT (2020+)
In working on CORESIDENT, I draw on literature on body-mind centering; butoh; and contemporary research on human skin microbial communities and their function in immunity. Researching skin from each of these fields allows interrogating the conception of skin as an essential inside/outside boundary: and the ideas of inside and outside altogether. Anatomical elemtns informed by Human Anatomy Atlas 2021.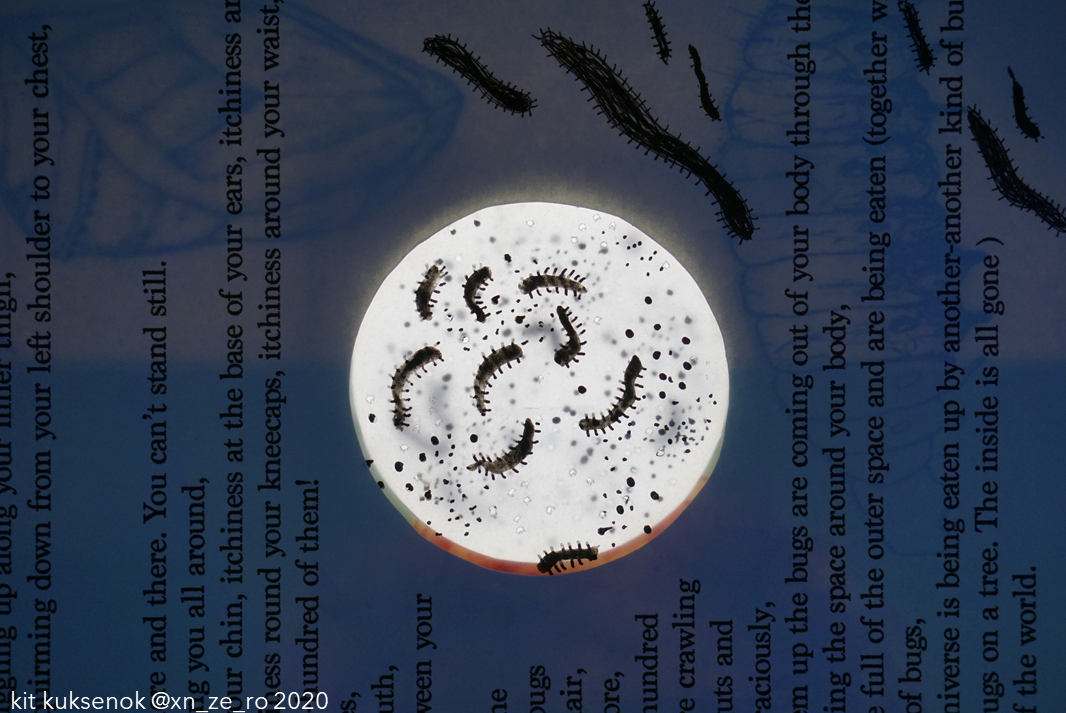 The book-object includes a set of transparency slides - the constellations at the different layers of skin.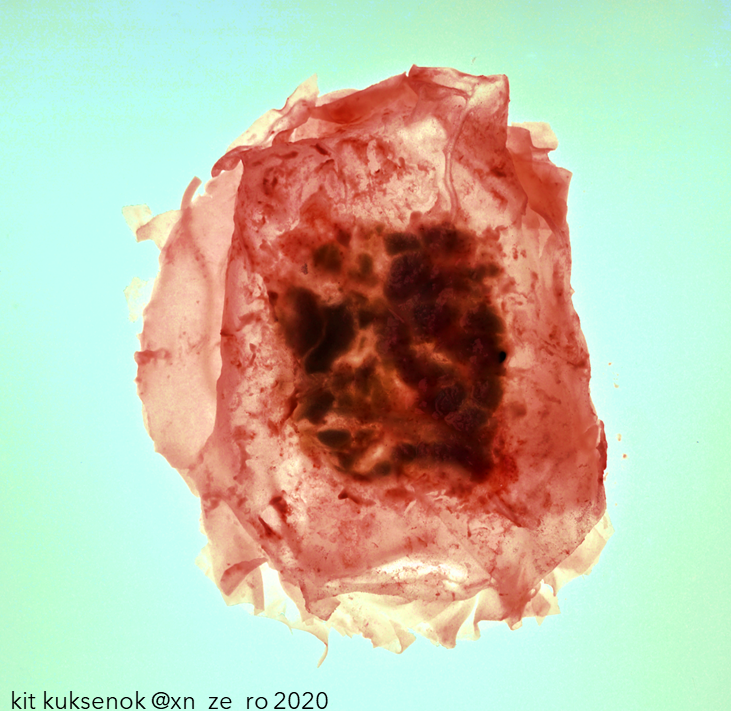 The image of a disembodied / dislocated skin-object is a digitally-edited photograph of one of several dislocated objects made (as a meditation on the filth of skin-layers) our of rice paper, flour, and various seeds and grains.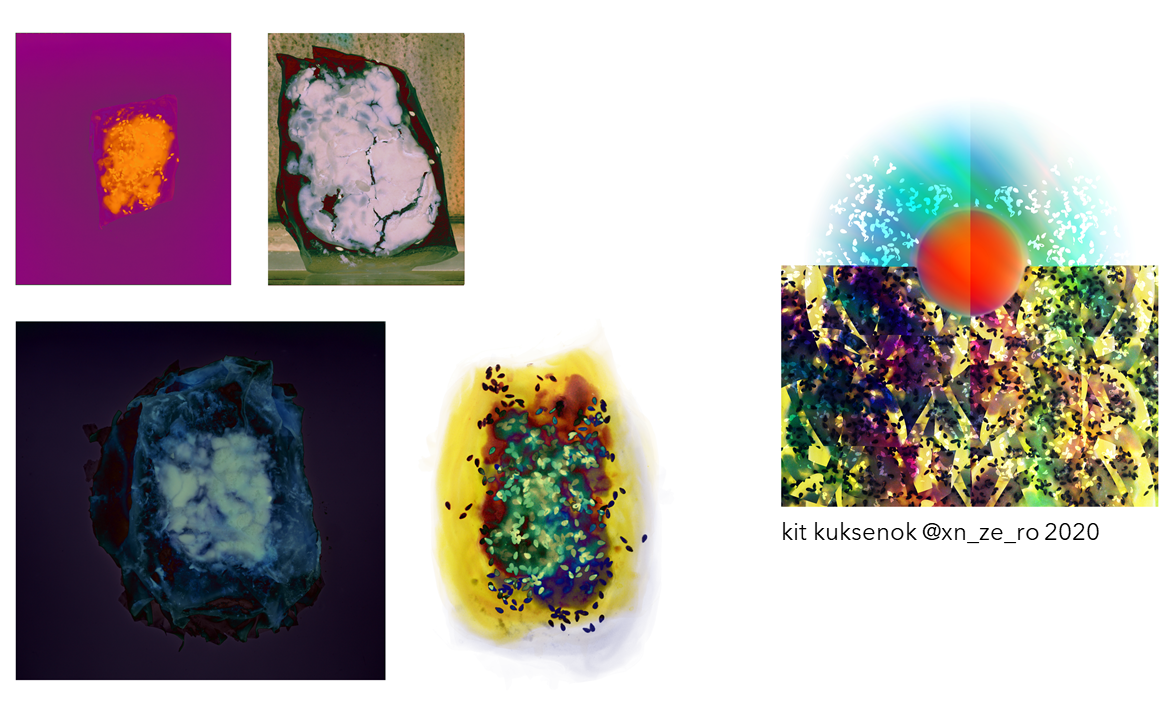 A few sketches and exploration of the infested skin-object mythology.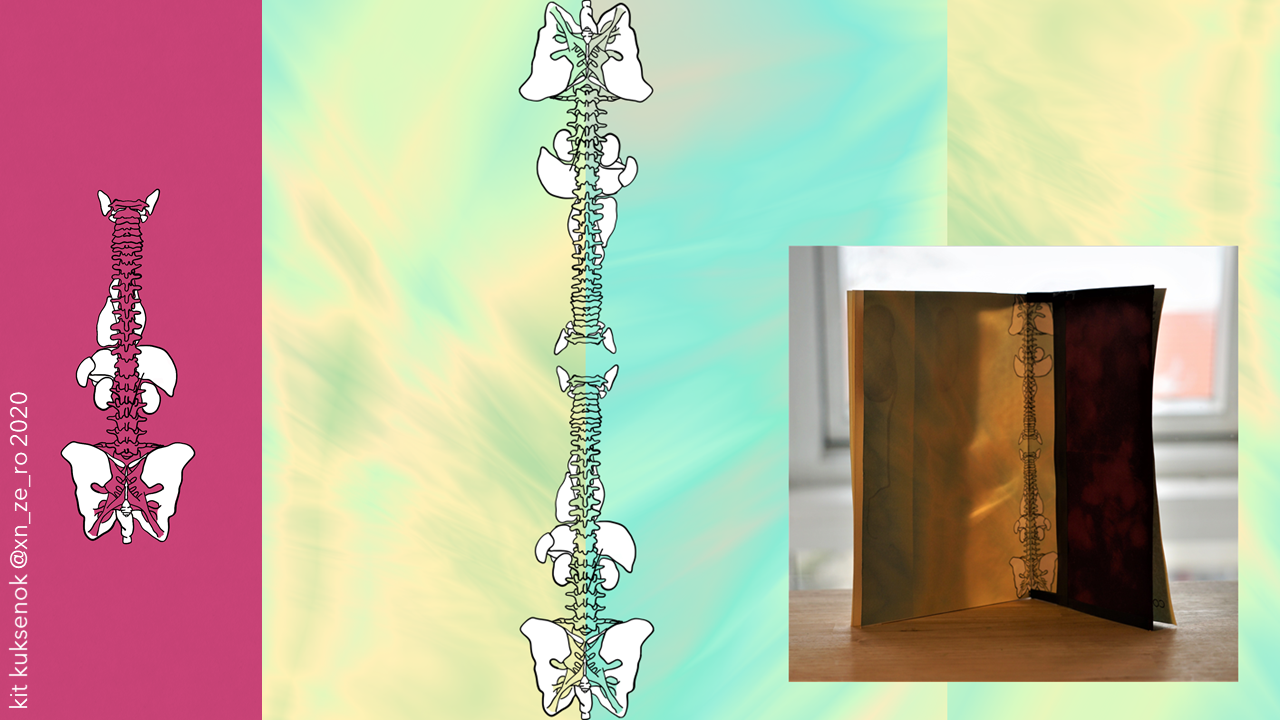 The internal body is considered through the lens of demonic symmetry. One of the spreads of the book includes a mirror material, slicing the rendering in half. The rendering includes the spine, and the kidneys and liver, associated with the water element, and engaged in the flow of essential energy (kidneys) and filtration of toxins (bladder).
Color Studies in Digital-Analog Conversations
Below selections and texts from my residency at Kreativ Kollektiv in Feb 2020.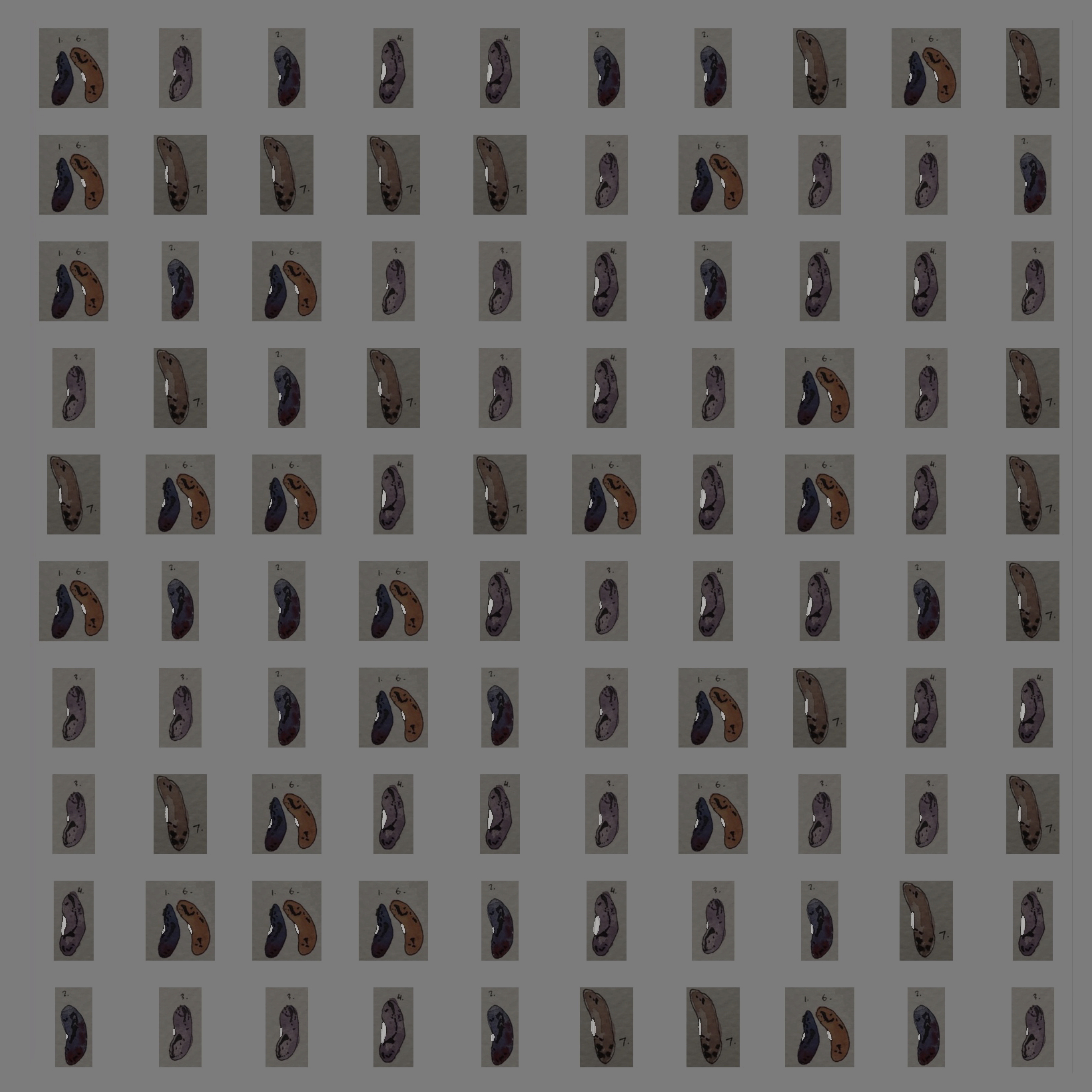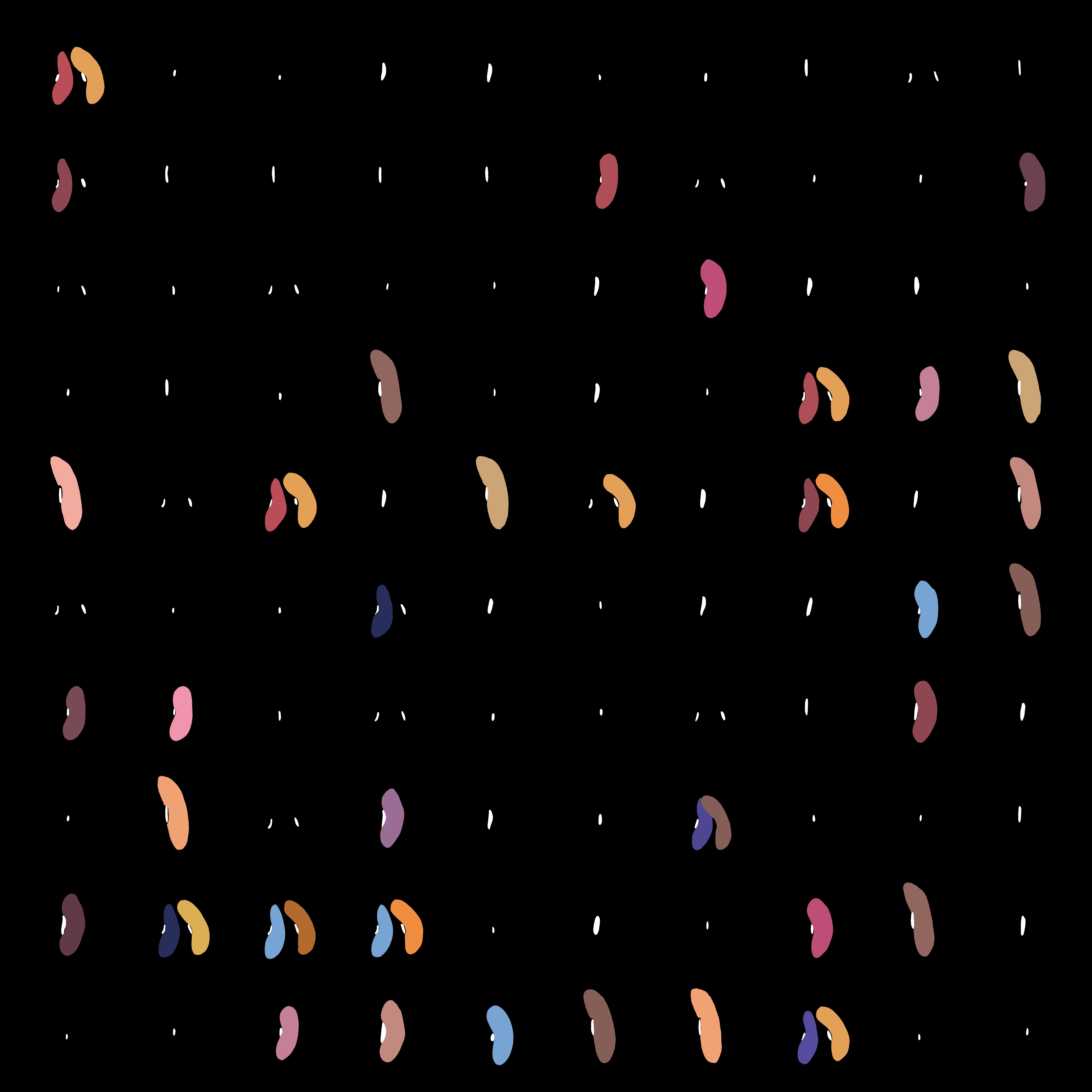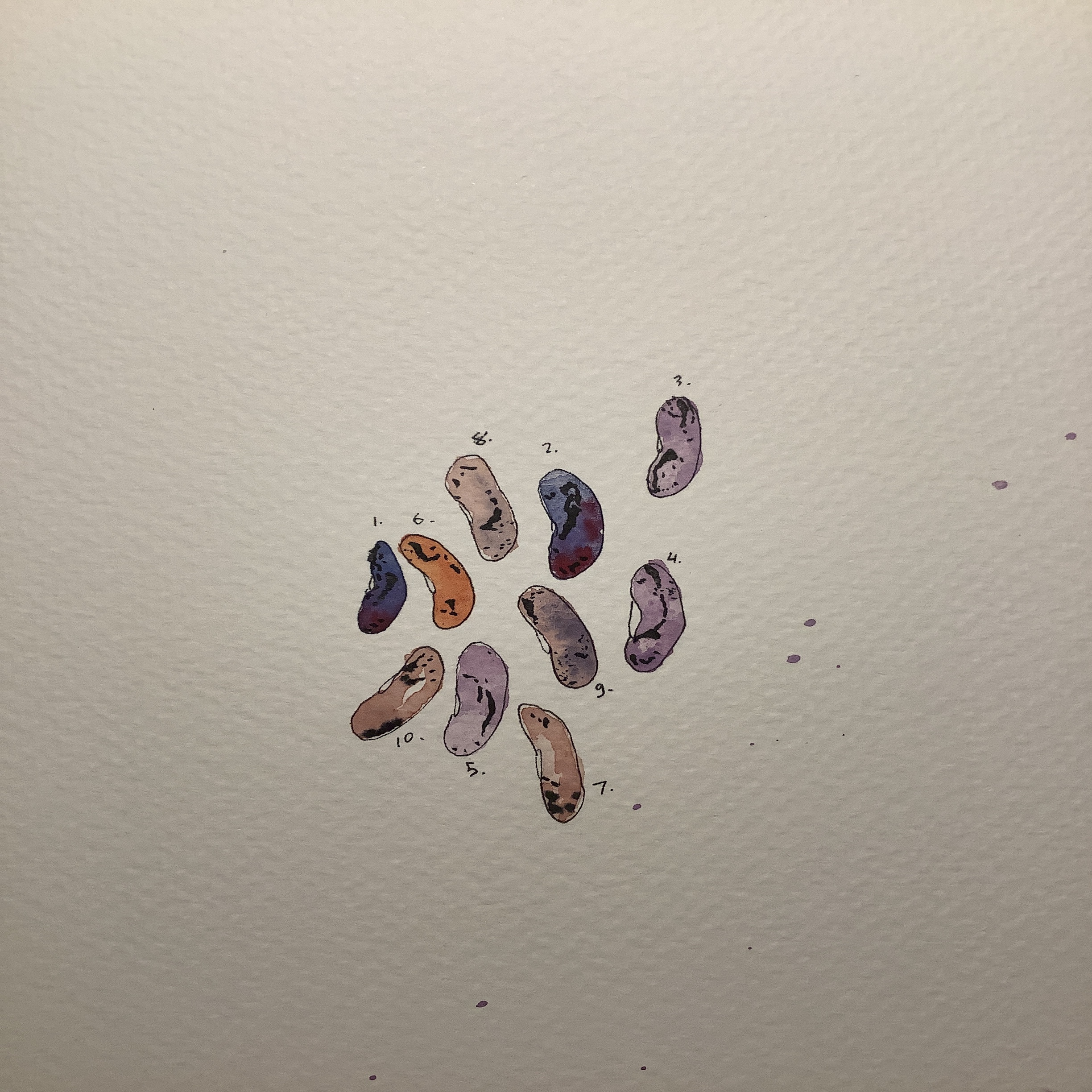 I saw a photo of beans someone had harvested and was just stunned by how colorful and complex and gorgeous they were! You can see the original watercolor in the last panel, and the rest is an iterative grid kind of method that I like: a way to take a soft analog work and dissect it digitally. As I worked on this, I was also reading "The Lonely City." There is a very moving story there about Any Warhol thatmade me realize how little I knew of his work and how narrowly I had seen it before. In the book, Olivia Laing makes the case that Warhol's visual repetitions of mundane objects are a ritual, a form of self-care, a way to create order and familiarity. I lived in Pittsburgh (Warhol's birthplace) for 6 years and saw his work (in a special Warhol museum) in so many school trips and finally, so many years later, I felt connection to it, and to the other stories of queer artists navigating their worlds through art-making.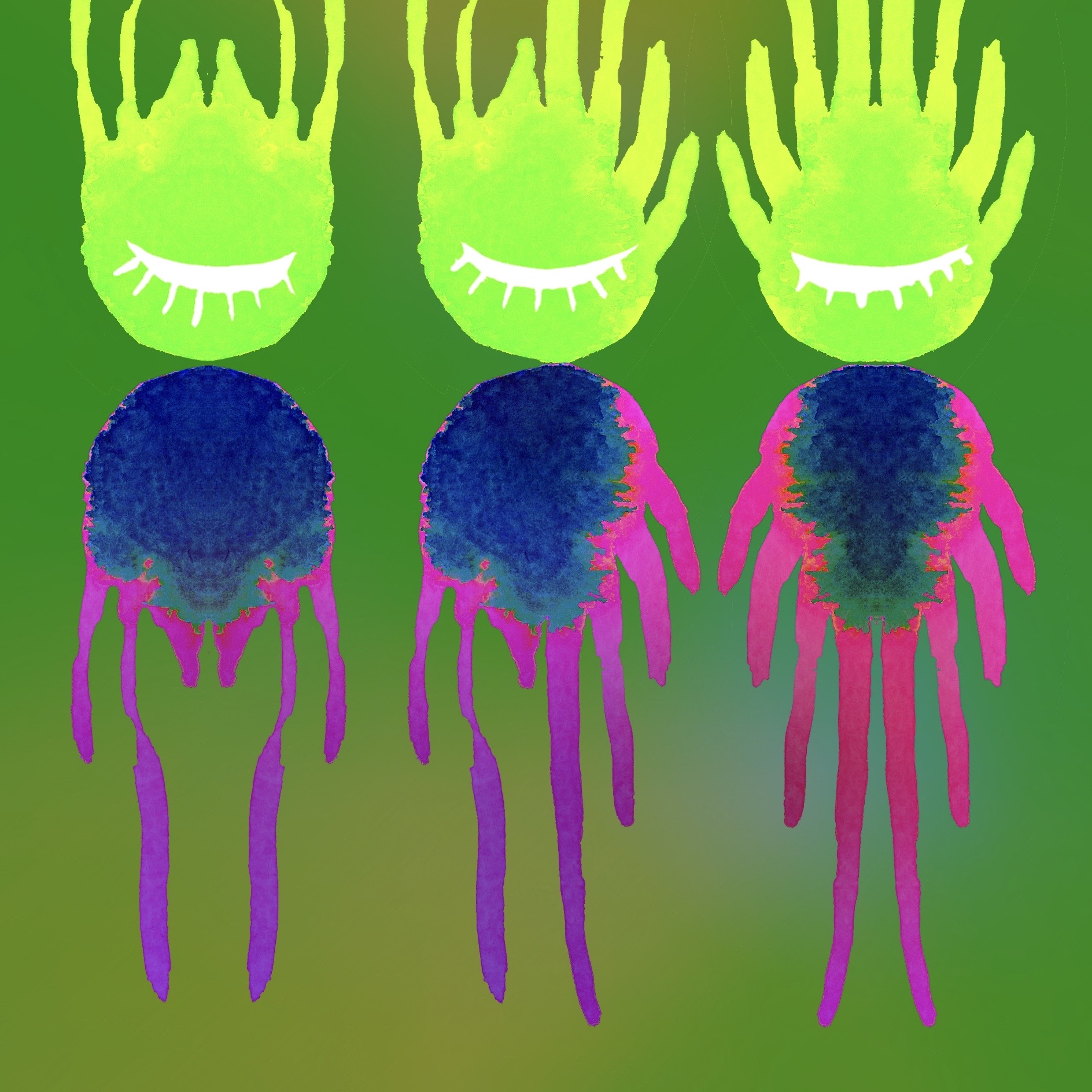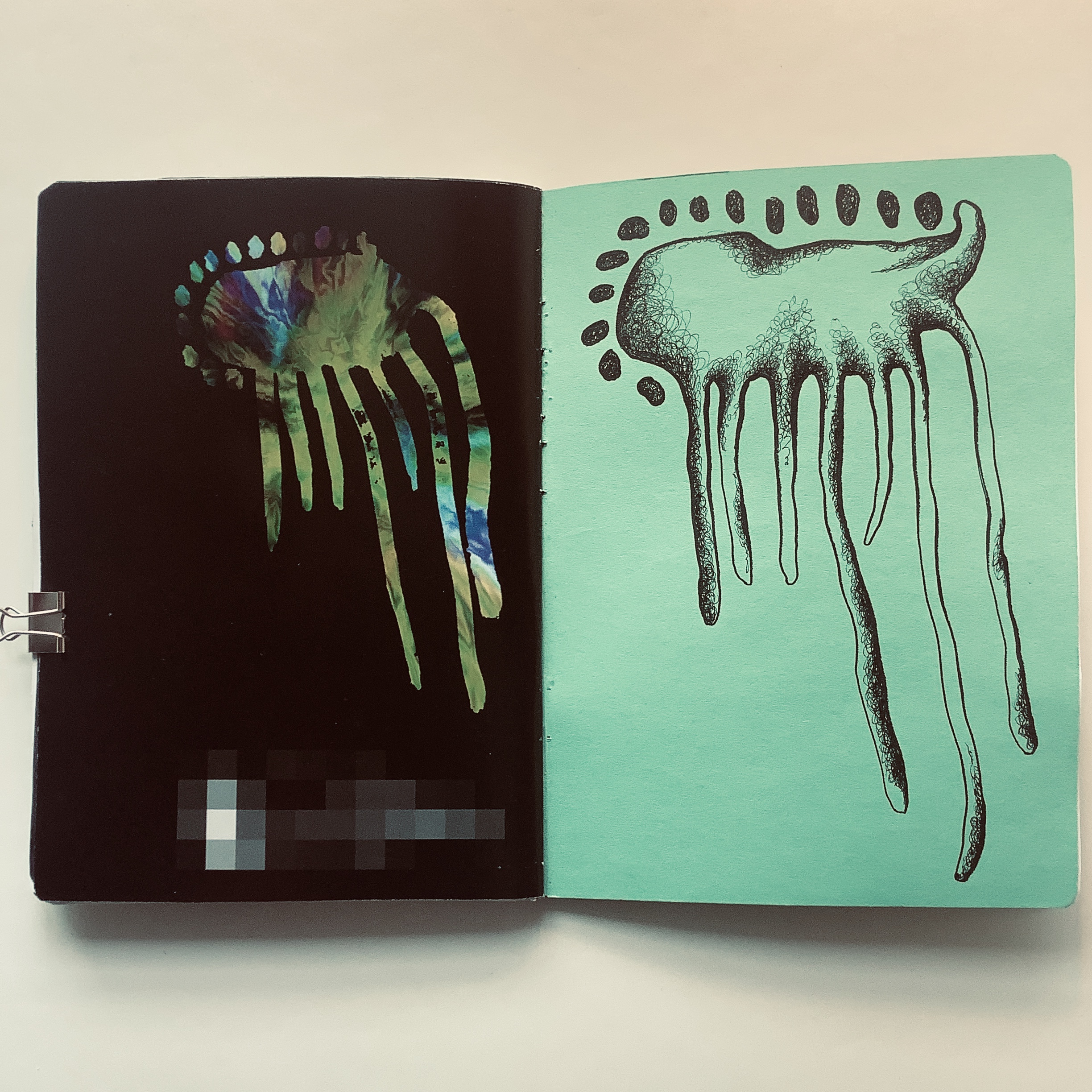 Experiments with color and digital collage of based on ink, watercolor, and color pencil sketches. There is a basic set of forms that recurs in my work for many years: hands and the closed dreaming-eye most commonly. The hands mean something like creative capability. The dreaming-eye - softness, imagination, peace.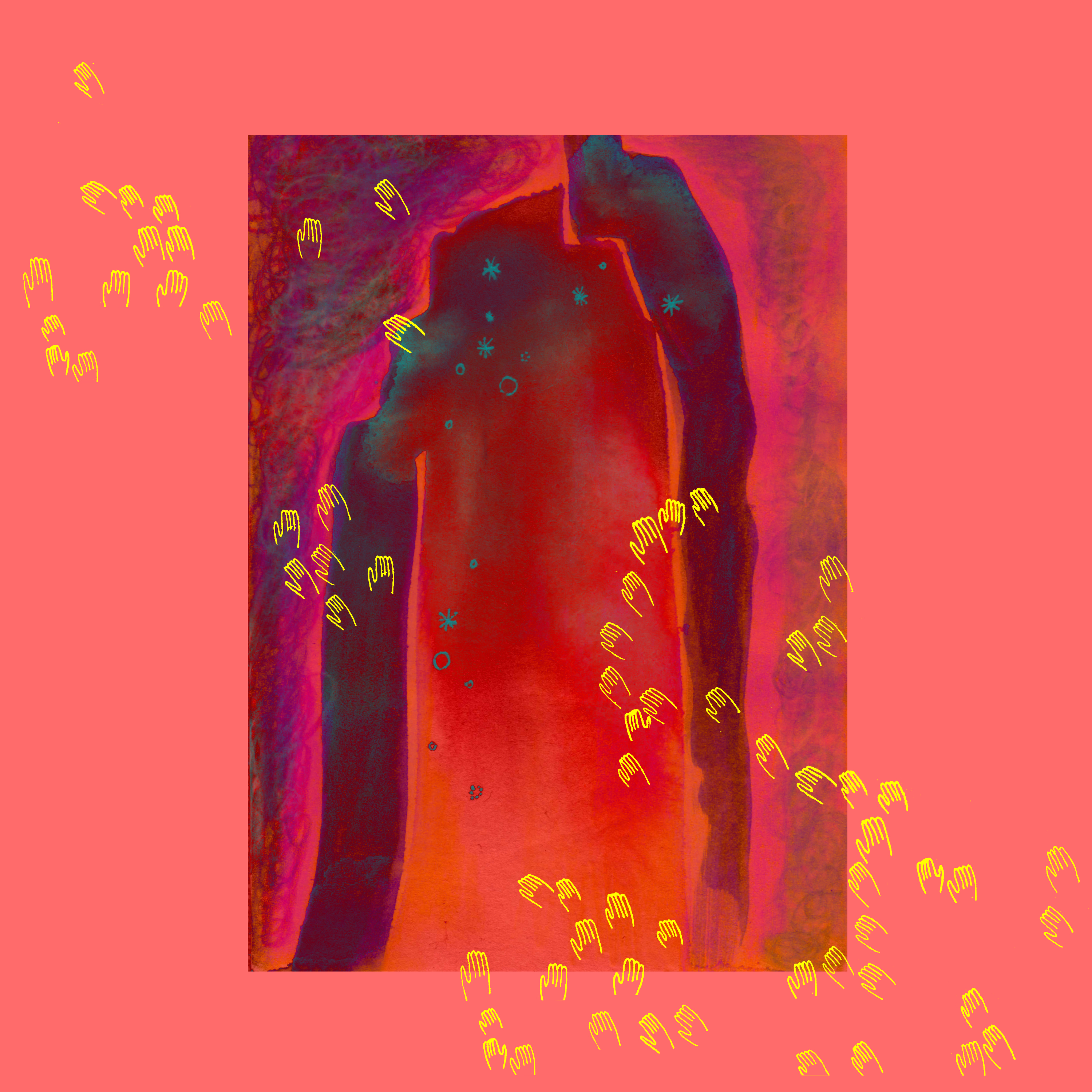 Printed & Book Objects
lost mail: visual art and narrative serial (03.2018 - 02.2020)
"love-song to a future self" self-reflection zine (2019)
Should I Do the Thing? (2016-2018)
UNSAYABLE (2020) - contributed to the Sketchbook Project (below:)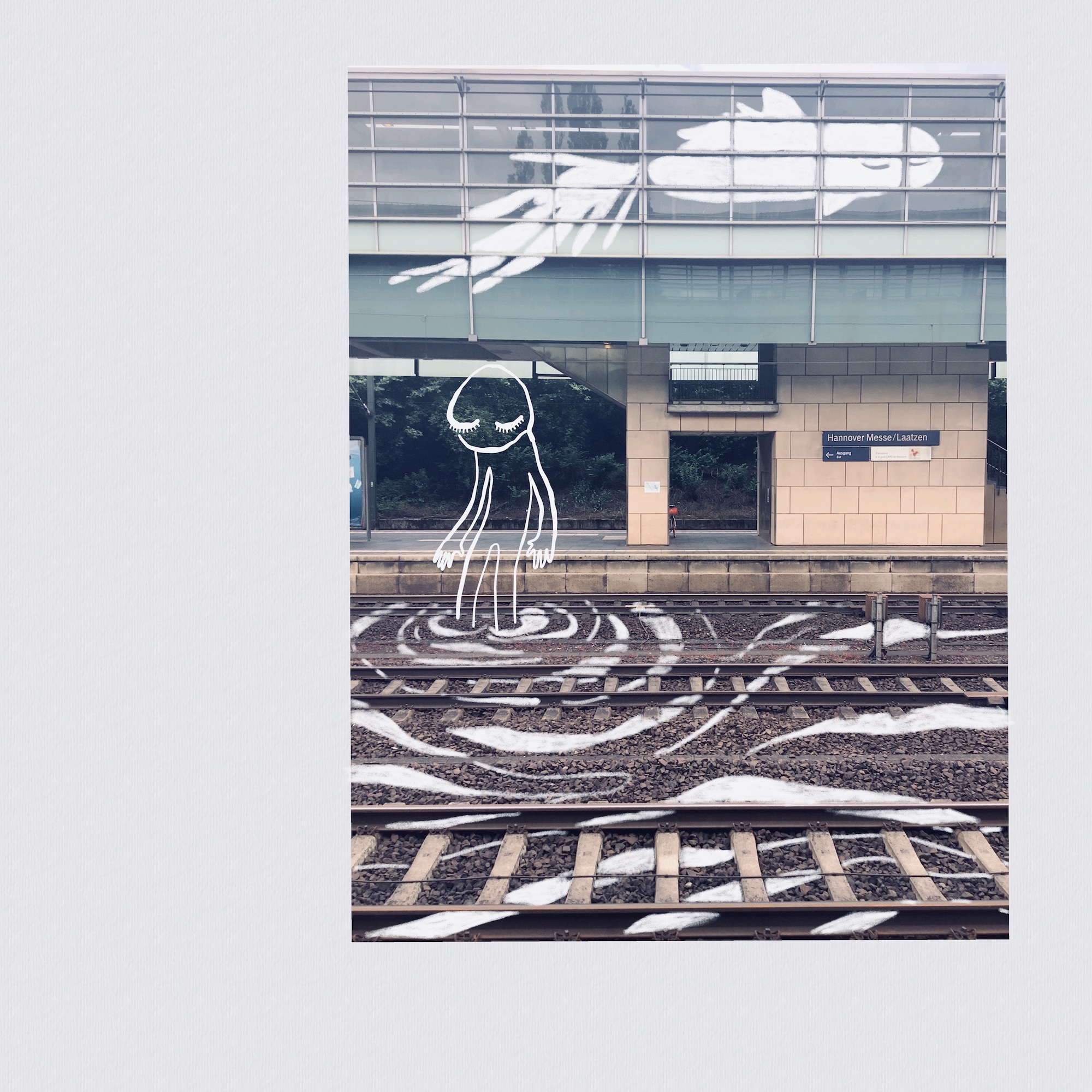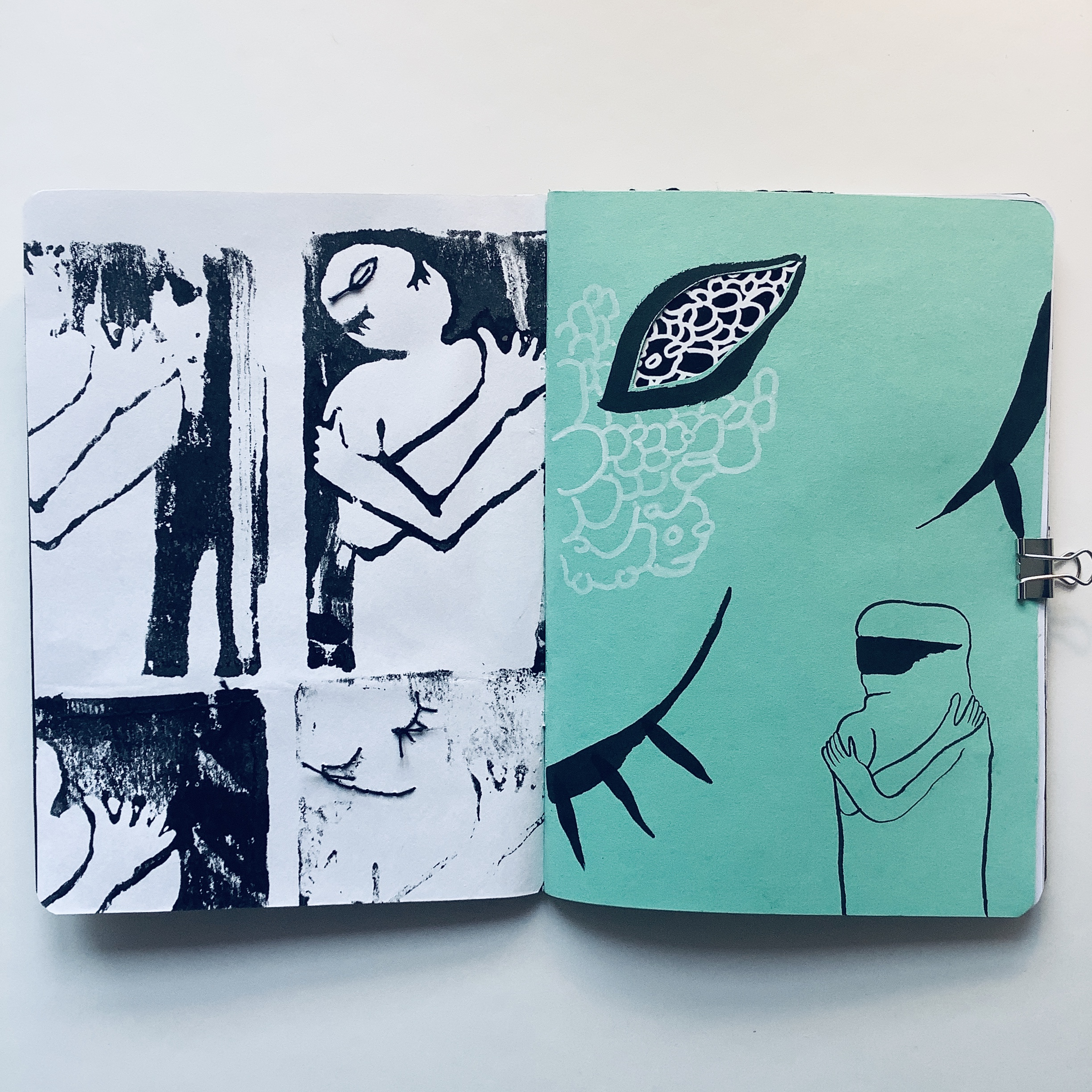 Fictional Scientific Writing
The Molloscope - Ayin Tay Kon was a chemical anthropologist deeply fascinated by stress and trauma in humans**, which they saw as both impractically frail and remarkably robust. They invented the molloscope as a post-hoc psychological intervention to help relieve the stress of massive-distance travel. Most human beings had left Earth in a mostly-disorganized frenzy, following large-scale shifts in the planet's capacity to sustain life, to planets that were barely-explored, often in experimental vessels. Trauma in this first migrant generation was unsurprising, given how stressful its circumstances. ...
The Long Kodo - One form of variation is the chorus of distinctness: descriptive words or phrases where typically between a quarter or half of the Udu participating replace with alternatives. The story of the first Kodo is one of the most common and short; characteristically both reflective of human custom but not featuring human characters. ...
Air Wells - Why don't more settlements use air well architectures? Many settlements, particularly relatively young ones, live in danger of severe water shortages. A number of readers wrote in asking why they see more and more commonly large stone structures for collecting water on other worlds, but not theirs, where it would seem so needed. ...
Other Writing
How to Observe the Inner Space of a Complex Biological System through Speculative Simulation
(And other works you can check on my research publications list)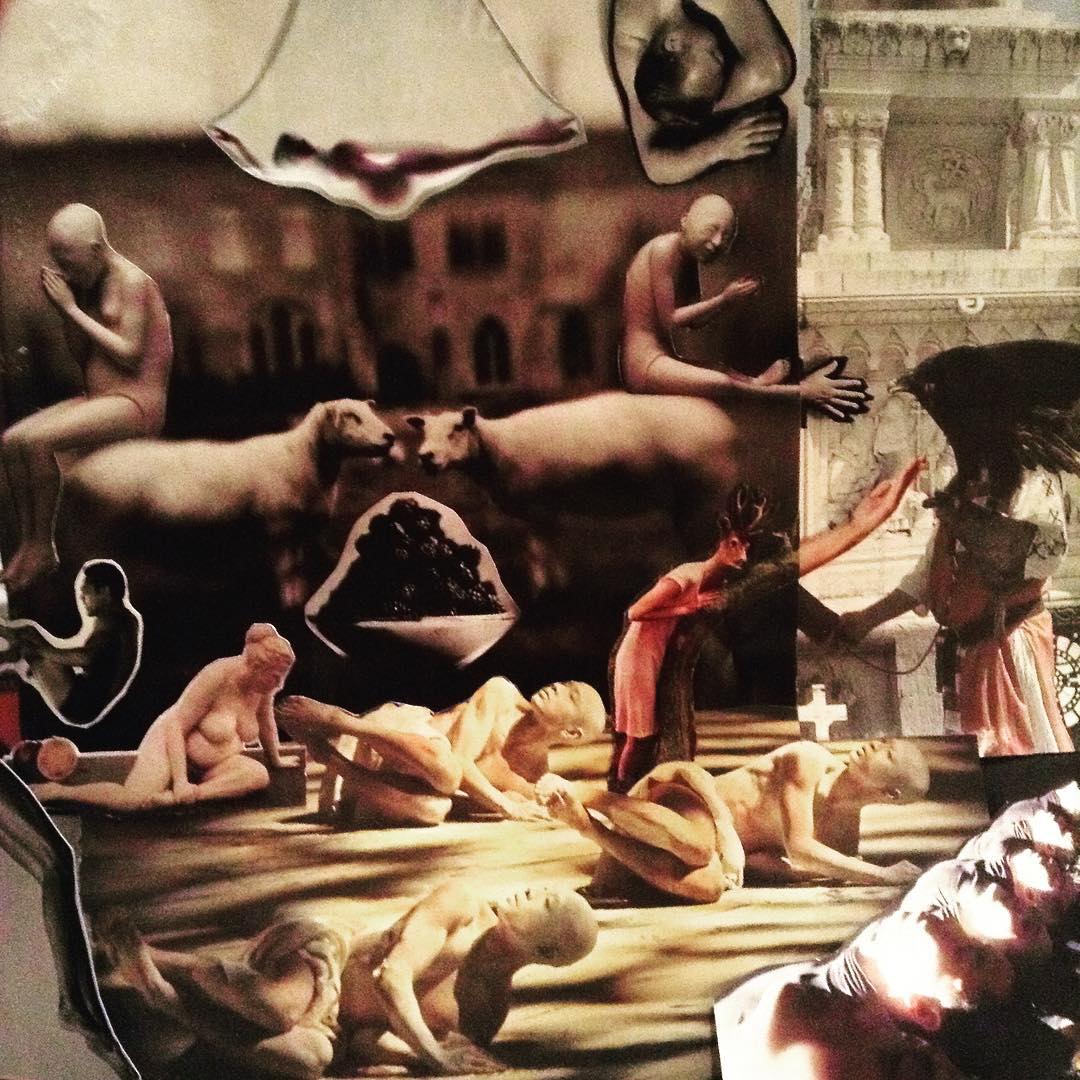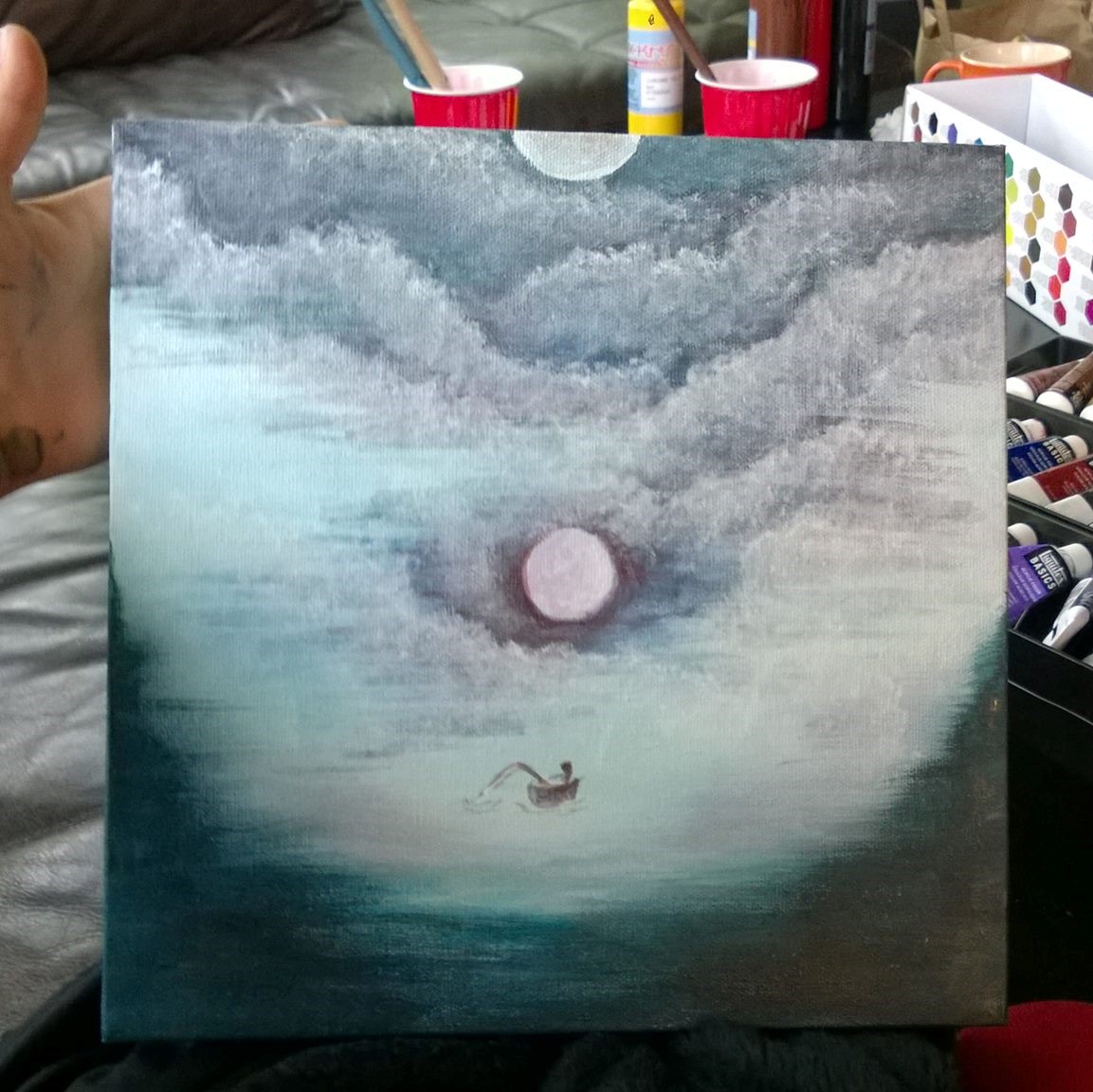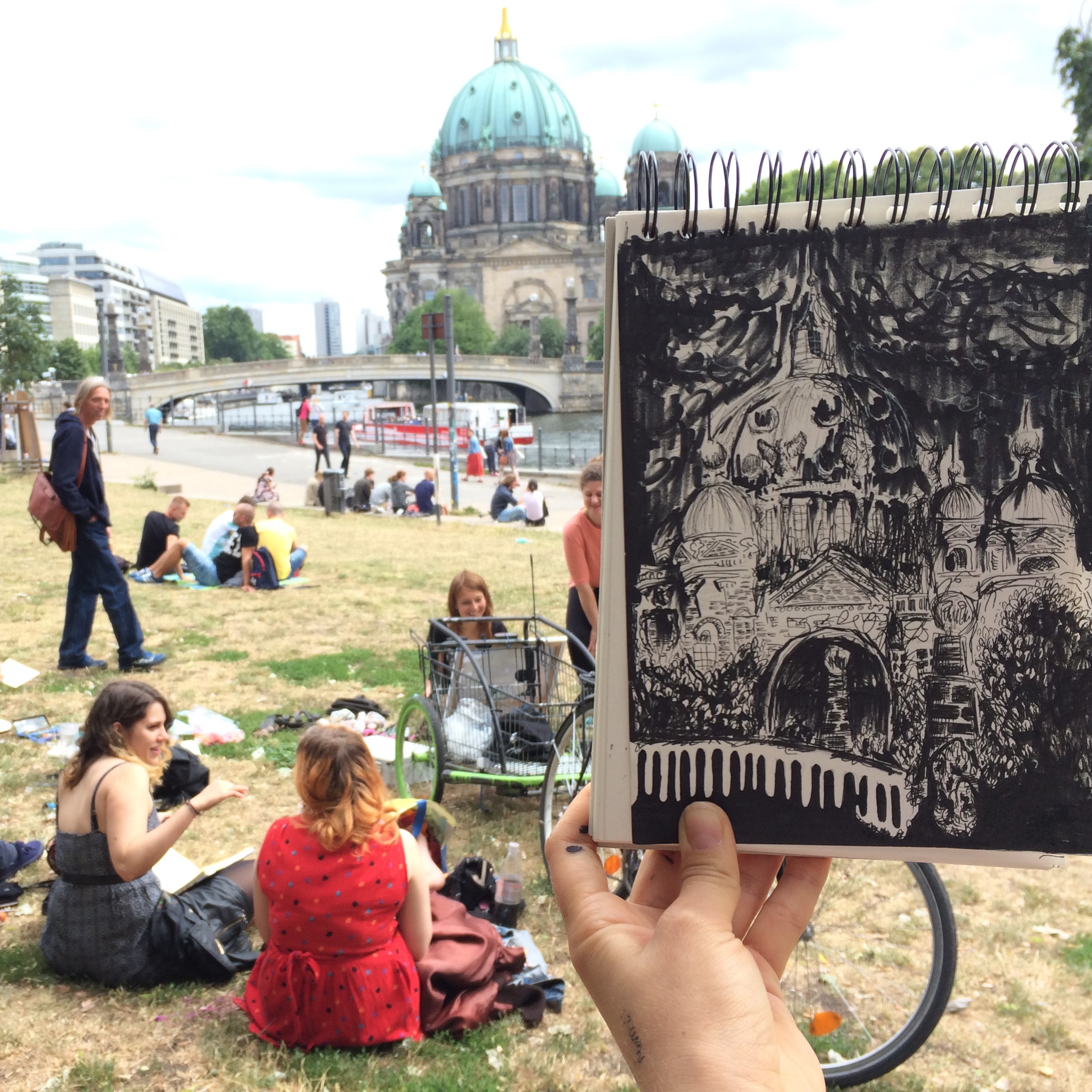 Above: several works from 2014-2016.
Persistent interest in the human body and haunted places/spaces.